Studying in Australia
Australia welcomes students from around the world. The Australian education sector is renowned for providing high quality education with unlimited study options for international students, with more than 1,200 institutions and over 22,000 courses to choose from.
Study opportunities range from primary and secondary school, to vocational education and training (VET), English language courses and higher education.
The Australian education system is distinguished from many other countries by the Australian Qualifications Framework (AQF). The AQF has 10 levels and links school, vocational and university education qualifications into one national system. This makes it simple and clear for overseas students planning their education in Australia.
Australian law provides nationally consistent standards for providers of education and training for international students. See the Education Services for Overseas Students (ESOS) Act 2000 and the National Code of Practice for Registration Authorities and Providers of Education and Training to Overseas Students 2018.
International students in Australia must study with an institution and in a course that is registered on the Commonwealth Register of Institutions and Courses for Overseas Students (CRICOS) - http://cricos.education.gov.au. CRICOS registration indicates that the course and the institution at which students study meet the high standards expected by international students.
The Australian education system is highly regulated to ensure quality and integrity for both higher education and VET sectors. The Australian government has established Australian Skills Quality Authority (ASQA) to regulate the VET sector, while TEQSA Tertiary Education Quality and Standards Agency (TEQSA) regulates the higher education sector such as universities.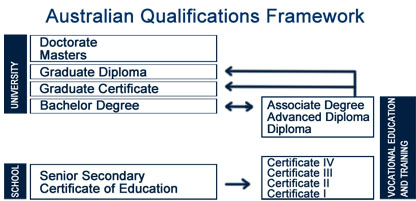 For more information on study in Australia, please check https://www.studyinaustralia.gov.au