Why SMIC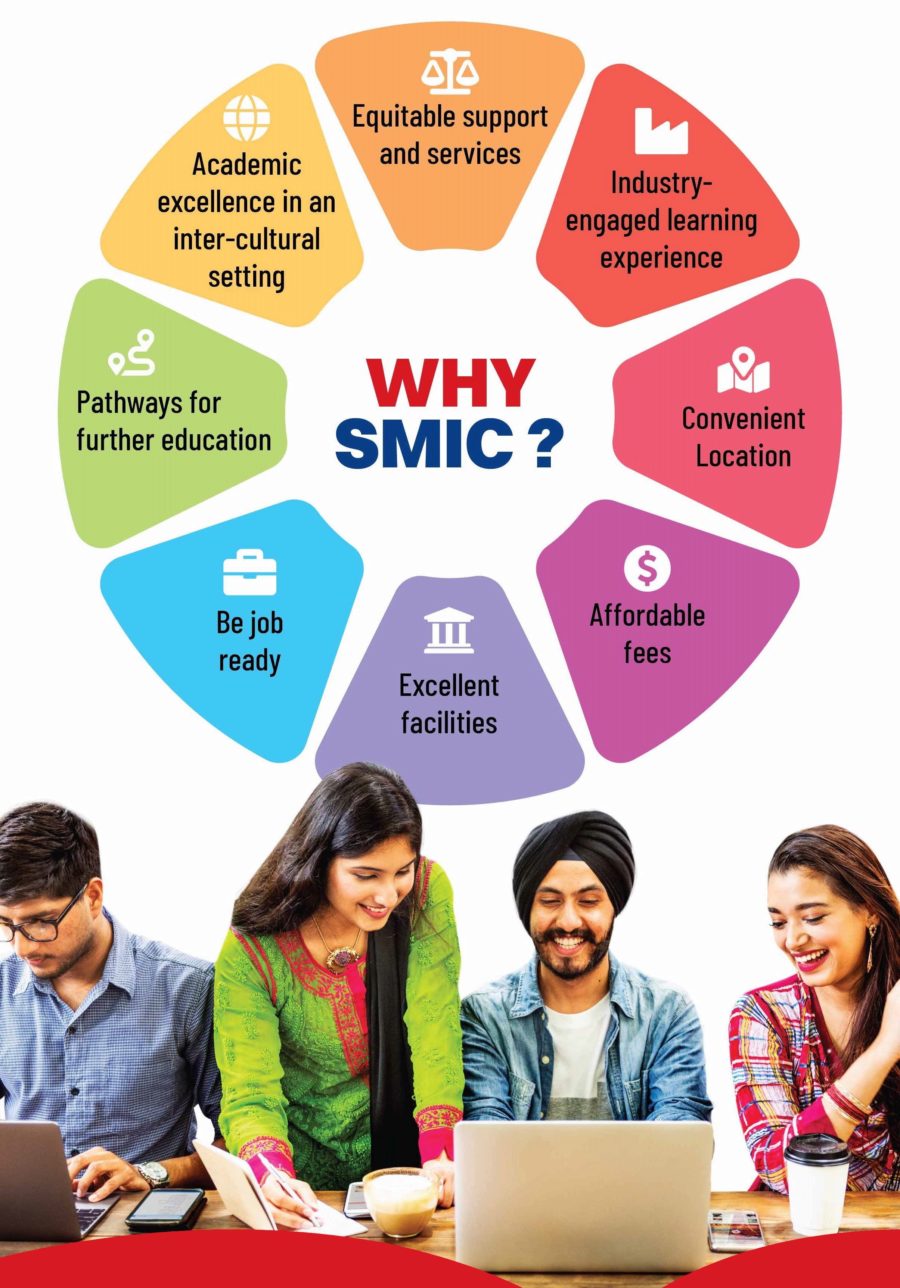 Academic excellence in an inter-cultural setting
SMIC is committed to provide high quality courses currently favoured by students and employers alike. Our courses are developed by academics of multicultural backgrounds and place students at the centre. In so doing, we encourage critical and independent thinking and offer positive learning experience and outcomes. You'll thrive on plenty of autonomy to direct your own learning. Our small class sizes mean you enjoy more contact time with our teachers, plus support whenever you need it to get the best out of your studies.

Equitable support & services
We provide students with timely and tailored support and services. We offer culturally sensitive and engaged teaching, learning and assessment services to cater for students of diverse origins and needs. SMIC engages diverse and experienced teachers and staff to ensure a supportive and inclusive environment.

Be job ready
SMIC focuses on providing the practical skills, creative thinking and confidence that are highly desired by employers. We have got you covered with one-to-one careers advice, academic support, services and more. Plus, you can fast-track your studies with our Term system and get a head-start on your career.

Industry-engaged learning experience
SMIC maintains a wide network of experienced professionals and organisations who will be invited deliver seminars on cutting edge ideas, industry practices and practical skills. Students will be able to work on real-world business projects, and our industry projects give you the opportunity to engage with major industry partners, solve real world challenges and boost your employability.

Affordable fees
SMIC fees and charges are affordable. These fees are set by benchmarking with compariable colleges in Sydney.

Pathways for further education
SMIC maintains a strong partnership with several higher education providers to enable students to pursue further studies through Study Pathway and Credit Transfer.

Excellent facilities
Our campus has everything you need to excel in your studies, including computer lab, wireless internet, library, study spaces and places to relax.

Convenient location
Study in the heart of Australia's most vibrant student city, Sydney. SMIC is located in the vibrant suburb of Burwood, a transport hub just 15 minutes train ride from Sydney CBD, and home to a large and diverse multicultural community. You can step out of your lectures to discover arts, music, food, shopping and sports next to the college.